ATTENTION:  AFFILIATE MARKETING HAS NEVER BEEN EASIER!
"Grab PLR Rights To Unique, High-Quality REVIEWS of the

50 HOTTEST Online Marketing Products

You Should Be Promoting!"

Build Authority, Provide Value and Dominate the 'Online Marketing' Niche Faster and Easier Than Ever Before!
50 Well-Researched And Interesting Reviews!
Full Private Label Rights To This Awesome Content!
Save Time And Effort - No Writing For Weeks!
No Need To Spend Thousands Hiring A Writer!
Excellent Content - All Done For You!
50 Exclusive, Expertly Written Passive Income Reviews! 
(With Private Label Rights)
Hello friend!
It's time to keep things real...
If you've been in the 'online marketing' niche for a while, you'll know that affiliate marketing is hard work.
You need to constantly look for winning products, create videos and/or blog posts... and let's not even start on the emails one needs to send to get sales.
You got into this business hoping to earn a passive income...
But now you're working even harder than you do at your day job and making less!

You were told that making money online was as easy as pushing a button and you could earn profits while you sleep.
But GASP! This is your reality...
You working all day to make profits while you sleep!
You've wasted your money on a ton of courses. You've done what they told you to do.
You've spent hours on your online business - but you still have NOTHING to show for it. And they keep telling you to rinse and repeat!!!
And you've wrung and repeated until you now want to wring their necks...

Listen... it's really NOT your fault. There's a reason for the predicament you're in... and no one is telling you about it.
Instead you're being told to promote every 'latest and greatest' product that hits the market, even if the products are rubbish.
You've been told about 'launch jacking' over and over... and you know something is amiss but you can't quite put your finger on it.
So you make the 'launch jacking' videos reviewing the crappy products hoping to rank well and maybe you get one or two sales.
Nothing to write home about even though you're home all the time working your butt off.
But guess what? - It gets worse! A lot worse.

The moment the product's launch period ends, this is your reality...
Sales slow down to a point they become nonexistent. The product is dead because the hype is over!
The infoproducts and courses you're promoting are here today and gone tomorrow. This is the root cause of your problem!
Once the product launches are over, no one really talks about these products or even thinks about them... because no one needs them!

All your effort, emails, bonuses and launch jacking videos mean nothing now... and you know you have to start all over again promoting a new product.
Worst. Passive. Income. EVER!
Why Are You Struggling While Other Affiliates Are Successful?
I'll give you a hint.
Let's look at popular marketer, Pat Flynn's, income report...
(I took a screenshot of this from an article in foundr.)

Do you see it yet?
Don't panic... I'll tell you.
Notice how most of the products Pat is promoting are tools and services?
He's promoting products that other marketers need. 
That, my friend, is the secret... and it's right in front of you.
He's NOT promoting rubbish infoproducts with weird names that are spelled badly.
Ahem... No '10 Zecond ProfitZZZ' or 'CrapprXPro' products here.

Here's the hard truth – most affiliates are on a marketing hamster wheel.

Spinning fast and furiously... and it looks like they're doing something but they still go nowhere.
The key to breaking out of this vicious cycle is to promote products that other marketers NEED.
Not what they want - BUT WHAT THEY NEED.
No one needs some viral app which breaks down 1 week later... or a 'push button profits' system that doesn't work.
Hell! Half the time the vendors for these products don't even renew the domains their sales pages are connected to... because they know that their products are trash.
The hype is over... and so are the sales. These products have no longevity because they just don't work, and they're wants - NOT needs.
I'll tell you what marketers need!
Most marketers need domains and hosting...
They need autoresponders, page builders, keyword research tools, click tracking tools, WordPress themes, learning management systems and many other crucial tools.

These are the foundational blocks of most successful online businesses.
These are legitimate products/services offered by reputable brands!
These are the products that you review ONCE and get sales for you over and over... because they stand the test of time.
Marketers need these products/services and WILL buy them through your links without a second thought - if you recommend these products to them convincingly.

But here's the problem...
Most affiliates neither have the time nor the interest to wade through tons of different online marketing tools and services... and review them.

It's a dull, mind-numbing process. Yaaaaawn.... 😴😴😴😴😴😴

What they want are simple, persuasive reviews that inform readers and get sales.
Something that's already 'done-for-you' and can be used immediately!
I've Got Their Backs... and Yours!
AND THAT'S EXACTLY WHAT THIS PLR PACKAGE IS ALL ABOUT!
I've written 50 product reviews for some of the hottest online marketing products, tools and services that marketers NEED.
These are major brands that have tons of satisfied customers and positive reviews. Customers who buy these products tend to stay customers for ages.
Most marketers don't switch hosting providers or autoresponders for years. Nowadays, most software services charge an annual fee too.
Not only are these products easier to promote, but many pay recurring commissions as well.
NOW We're Talking Passive Income...
Add these reviews to your blog and other web properties. These are legitimate products that marketers need...
Many of them will read these reviews, click on your affiliate links and buy what you're recommending.
Repeat sales on autopilot - that's where the magic's at!

Not worrying about dodgy products disappearing after a few months.

The content in this PLR Bundle is written in an informative and entertaining way to keep the readers hooked.
I'm one of the best PLR writers in the business. The most modest too.
You can rest assured that this is a quality product that is informative, helpful, cool and stylish.
If you're in the 'make money online' niche, this product is perfect to promote to your list. It's an affiliate marketing masterpiece.
You don't even need to think twice about it... It's that good!
THE CONTENT IN THIS PLR PACKAGE IS EXACTLY WHAT AFFILIATES IN THE 'ONLINE MARKETING' NICHE NEED...

It will not only educate your readers on the best tools and services for their business...

But also tell them what they need to know in a simple and direct way!

Which will then increase your chances of getting more clicks and sales...
And You Are The Reason Why I Created...
50 Passive Income Reviews!
(With PLR Rights)
Build Authority, Provide Excellent Value, Gain Trust, Convert Your Readers Into Buyers and Make Affiliate Commissions!

Module #1: Domain Registrars & Hosting
Namecheap Review

(869 words)




NameSilo Review

(855 words)




Siteground Review

(933 words)




LiquidWeb Review

(878 words)




WPX Hosting Review

(1,034 words)



A2 Hosting Review (936 words)
Module #2: Autoresponders
Convertkit Review

(1,167 words)




AWeber Review

(1,091 words)




GetResponse Review

(999 words)




Active Campaign Review

(924 words)




Mailchimp Review

(769 words)



Module #3: Page Builders & Funnel Builders
ClickFunnels Review

(862 words)




Thrive Architect Review

(881 words)




OptimizePress Review

(978 words)




GrooveFunnels Review

(804 words)




Samcart Review

(861 words)




Leadpages Review

(805 words)




Thrivecart Review

(737 words)



Module #4: Keyword Research Tools & Tracking
SEMrush Review

(1,117 words)




KWFinder

(888 words)




Frase Review

(645 words)




AnswerThePublic Review

(936 words)




Long Tail Pro Review

(1,026 words)




Improvely Review

(736 words)




Clickmagick Review

(862 words)



Module #5: Learning Management Systems (LMS)
Teachable Review

(928 words)




Kajabi Review

(906 words)




Thrive Apprentice Review

(803 words)




Thinkific Review

(728 words)



Module #6: WordPress Themes
Elegant Themes Review

(920 words)




StudioPress Review

(948 words)




Kadence Review

(824 words)




Thrive Themes Review

(900 words)



Module #7: Tools & Resources
WishList Member Review

(1,079 words)




Stencil Review

(819 words)




Camtasia Review

(842 words)




Screencast-O-Matic Review

(782 words)




Designrr Review

(734 words)




Dropbox Review

(706 words)




Shopify Review

(840 words)




Template Monster Review

(691 words)




Tailwind Review

(726 words)




Social Pilot Review

(744 words)




ConvertBox Review

(834 words)




Tube Buddy Review

(718 words)




Provesource Review

(659 words)



Module #8: Marketplaces
Udemy Review

(785 words)




Fiverr Review

(925 words)




Udimi Review

(1,020 words)




Gumroad Review

(871 words)



Module #9: Affiliate Link List
I've included this to make your life even easier.
You'll receive a PDF file with a list of links that will take you straight to the products' affiliate sign up pages

Just fill in your details and you'll receive your affiliate links in a day or two.
Comes Complete With Private Label Rights!
How To Use These Reviews In 3 Easy Steps!
"That Looks Great... But... Er... Can I Trust You?"



GASP! Did you just question my credibility?!!!
Argh! Unbelievable! I expected you to have already bought the product by now... and here you are, doubting me.
But it's ok. I understand. You need proof. OK, Captain Skeptical... here goes.
Let me throw in some stats from my previous PLR launches...
From the pic above, you can see that I've sold thousands of my own PLR products...
And thousands more as an affiliate for other PLR vendors.

I didn't post this screenshot to brag. I posted it to show you that I know the PLR scene like the back of my hand... and also to brag.
I'm one of the most popular PLR sellers online and definitely the coolest. No questions here. (Bragging escalates...)

Not only do I have 3 PLR stores (Reseller PLR, Extremely Limited PLR & Flaming Hot PLR), but I've written content for other PLR sellers like Rick Warid, Huw Hughes and Val Wilson, too.
I'm everywhere in this scene even if you don't see me. (Bragging intensifies...)

I'm the PLR seller's PLR seller. (Still bragging... but you asked for it...)

If you're still unsure, there's a wall of testimonials further down this page. 'Nuff said.

But Enough About Me... What Matters Is

That You Can See The PLR Goldmine Right In Front Of You!



The online marketing niche is a VERY LUCRATIVE niche. Can you see the profit potential?

There are thousands of searches for marketing related tools and services every month! This is a multi-billion dollar industry.
This niche is definitely a winner!
To tap into this HIGHLY PROFITABLE niche, you must have persuasive reviews that sell.
Not any old, boring content but INFORMATIVE, PERSUASIVE and ENTERTAINING content.
Good content is king and you need lots of it.

Want to build authority? You need good content.
Want your site to rank for a variety of keywords? You need good content.
Want to provide value and build trust and loyalty with your readers? YES! EXACTLY! You need good content.
To profit in this niche, you MUST have first-rate content. It's that basic...
But Here's The Hard Truth...
Most online marketers who try to profit in this niche will end up failing and not make a single cent.
There are several reasons for this but it all boils down to one thing. They don't have enough good content.

Creating content is hard work. Writing is time-consuming, draining and just no fun.
You got online to make money without struggling for hours daily. The last thing you want to do is bang away at the keyboard from morning to night like a deranged writer.
What you need is pre-written content that you can just take, edit a little... and copy and paste on your blog.
Now, you could spend weeks doing boring research and writing it all yourself... OR...
You could pay a freelancer $20 an article and cough up hundreds of dollars just to have content which in most cases won't even be that great.
"But What Choice Do I Have, Arun?"
I thought you'd never ask!
See... I don't like blowing my own horn but since you asked, let me be frank with you.
When it comes to PLR content, I'm one of the best in the business. I don't outsource the writing to third-rate hacks. All the PLR I release is written by me.
That Kermit image you saw above... That's me in disguise.
And... I understand your pain. I know how hard it is to write content when you don't have the time or the skills. It is frustrating and depressing.
So, the question now is...
"What Are The Successful Marketers Doing That The Rest Aren't?"
Two words - They're providing valuable content and pre-selling their readers.
But wait, Arun... that's more than 2 words. I knoooow... I was just checking to see if you were paying attention!
With the content that you get in this package, you'll have a ton of useful information that visitors to your site are looking for.
All you need to do is sprinkle your affiliate links to related affiliate products and you're good to go.
People come online to look for information and they'll gladly read the content on your site/blog because these articles are written in an informative and entertaining way to keep your readers hooked.
Your readers will look to you as an authority in the niche. They'll like you, trust you and buy from you. It's that simple.


No brainstorming required.

No struggling to write pages and pages of content. Avoid the torture.

No quitting halfway because it's just too tiring to keep up with the content demands.

No spending hours on mind-numbing research.

Stop spending all your free time in front of the computer. Yawn.

No outsourcing. Reduce your costs and boost your profits!
50 'Passive Income Reviews' PLR



These Reviews are Perfect for Affiliate Marketers, Coaches, YouTubers, Bloggers or Anyone Who is In the 'Online Marketing' Niche...
Use the reviews as blog posts or post them on your Facebook pages, etc.
Repurpose the PLR content to create slideshow videos on YouTube to drive traffic to your site.
Use the articles as free email course to build reader loyalty and establish authority.
Create lead magnets with the content and use them to build your list... Or sell them!
Compile the articles into an ebook and sell it for $10 to $17.
Populate your private blog network (PBN) sites with the content.
Use the content to cross-promote affiliate offers on other marketplaces and make commissions.
Repurpose the content and turn it into an audio book.
Offer a "Review of the Week" feature on your blog using the content in this package.
Rewrite the reviews and use them as guest posts or post them on niche forums.
Gain more authority by using the content to answer questions on sites like Quora, Yahoo Answers, etc.
And so much more!
You Have 2 Choices Now...
It's crunch time, partner...
This is where the pedal hits the metal and rubber meets the road.
You either struggle to create all the reviews yourself or you get this package and save yourself a whole bunch of money and time... But you should be aware that...

Content creation is a pain in the a**!
I would know. You need to do the research, the writing, the formatting, the checking...
Just reading all of these makes me tired. You probably already fainted.
Wait, what? You're still conscious?
Great! 'Cos I've done it all for you!
Yes... I'm really that cool... and so are you, because you're probably going to buy this package.
If you do decide to pay someone else, you'll probably end up forking out $500 or more... and this is a very moderate estimate.
You can expect to spend more in both money and time.
Dealing with freelancers can be a real hassle. Even Freddy Krueger has nightmares about them.
If you do decide to do it yourself, that's cool... but the time and effort spent on the research, writing, editing, proofreading, etc. will almost put you in an early grave.
During this time you could have already made money with these Passive Income Reviews (with private label rights).
I'm not going to hard sell you this package because the value speaks for itself... and I'm too cool to twist your arm just to get a sale.
I'll Just Give You One Last Reason Why You Should Get This Done-For-You Package Now!
The content is EXCELLENT!
If you hired someone to write these reviews for you, it would cost you more than five hundred dollars! In all honesty, mine will be better. Modesty, Arun! Please!
Let's take a look at what you're getting again...

50 Awesome PLR Reviews For The HOTTEST Online Marketing Products, Tools and Services!



Domain Registrars & Hosting
Namecheap Review
NameSilo Review
Siteground Review
LiquidWeb Review
WPX Hosting Review
A2Hosting Review
Autoresponders
Convertkit Review
AWeber Review
GetResponse Review
Active Campaign Review
Mailchimp Review
Page Builders & Funnel Builders
ClickFunnels Review
Thrive Architect Review
OptimizePress Review
GrooveFunnels Review
Samcart Review
Leadpages Review
Thrivecart Review
Keyword Research Tools & Tracking
SEMrush Review
KWFinder Review
Frase.io Review
AnswerThePublic Review
Long Tail Pro Review
Improvely Review
Clickmagick Review
Learning Management Systems (LMS)
Teachable Review
Kajabi Review
Thrive Apprentice Review
Thinkific Review
WordPress Themes
Elegant Themes Review
Studiopress Review
Kadence Review
Thrive Themes Review
Tools and Resources
Wishlist Member Review
Stencil Review
Camtasia Review
Screencast-O-Matic Review
Designrr Review
Dropbox Review
Shopify Review
Template Monster Review
Tailwind Review
Social Pilot Review
ConvertBox Review
Tube Buddy Review
Provesource Review
Marketplaces
Udemy Review
Fiverr Review
Udimi Review
Gumroad Review
PERSONAL USE PLR RIGHTS
[YES] Can be edited and modified in any way
[YES] Can be branded and sold as a report with personal use rights only (PDF)
[YES] Can put your name as the author
[YES] Can be used as eCourse and webinar material
[YES] May use the content on your site/blog
[YES] Can be used on article marketing sites
[YES] Can be translated to other languages
[YES] Can use the content to create and post videos on video sharing sites/blogs, etc.
[NO] Cannot claim copyright to the content since it is PLR
[NO] Cannot resell the packs
[NO] You may NOT sell or giveaway private label rights (non-transferable PLR)
[NO] Cannot be added to membership sites with resell and master resell rights
[NO] Cannot use my name as author
[NO] You CANNOT add my reviews to your own reviews and sell them as a bundle
[NO] You CANNOT add my reviews to a review software or DFY websites you create and sell my reviews as part of your software/websites package.
Do note: Some people have flouted the last 2 license terms before and I've taken legal action against them.
So please, stick to the license terms and we'll all be happy.
"Hey Arun, You Sure Talk Up A Storm... But Is Your PLR Any Good?"
Wait, what?
Did you just?... You didn't just...
HO! You did!
It's time to school you with some real keeping it straight talk right here.
Creating content on your own can be so draining and time-consuming that the zombies on The Walking Dead will have more energy and a better social life than you.
What? Some bloke is charging you $25 for a 500 word article. Tell him to take a hike with the zombies. Flaming Hot PLR can rival most freelancers who charge more than they're worth. Those oxygen thieves!
Make You Look Like an Authority!
You will gladly put your name to my PLR content. Don't believe me? Read the reviews below. Go ahead... I can wait.
Oh come on! Really? Yup! My PLR is that good!
Still Don't Believe Me? Check Out The Testimonials Below!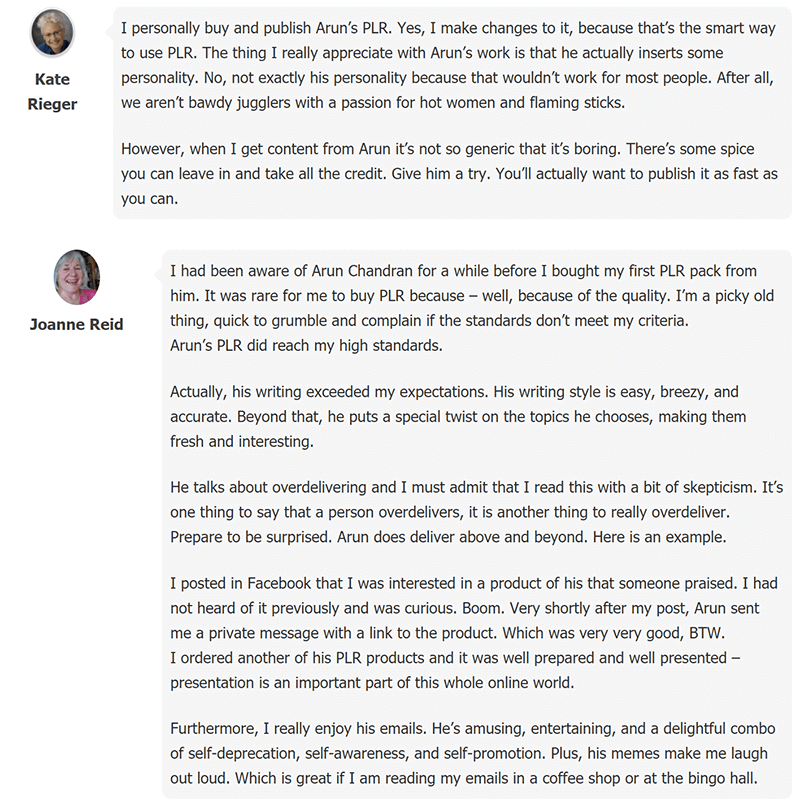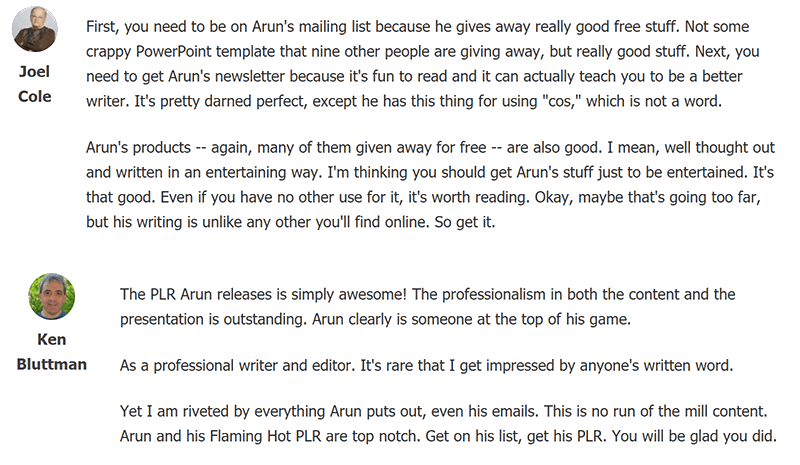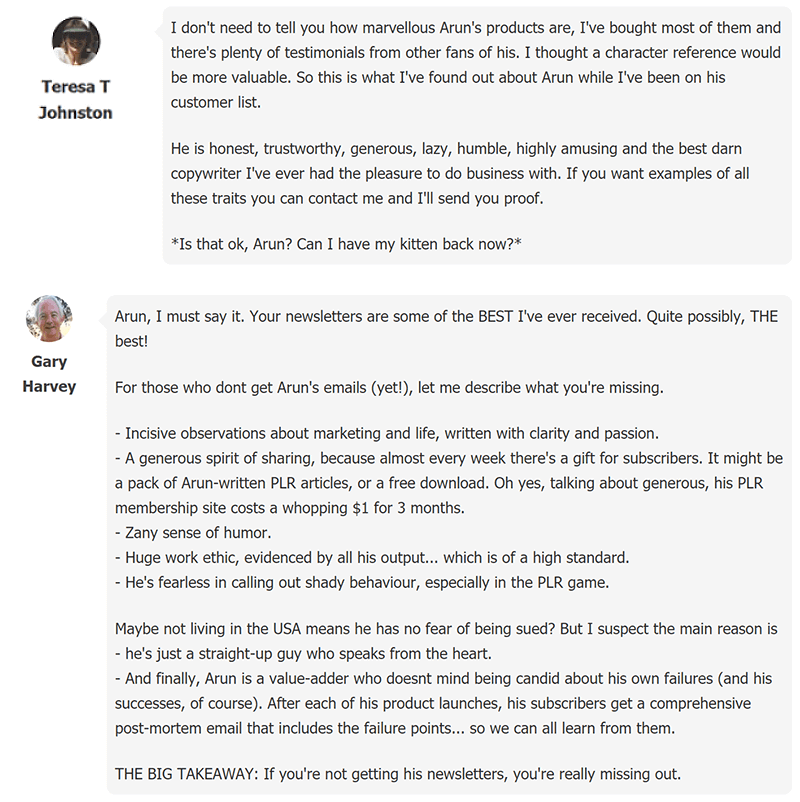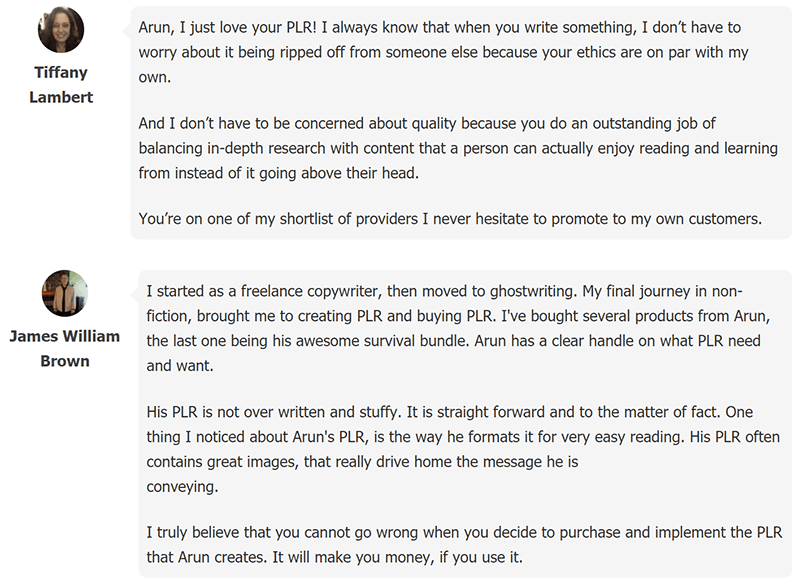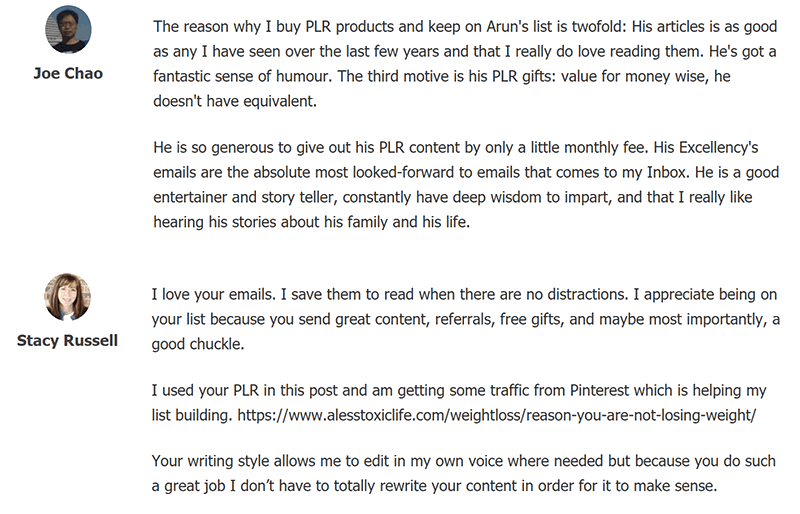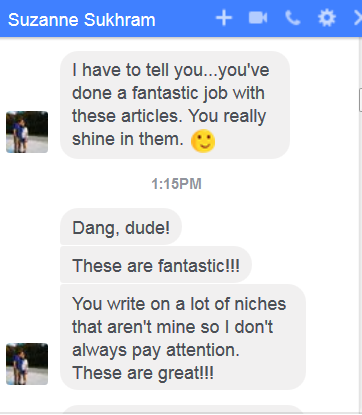 "Fine! Fine! I'll Get It! Could You Just End This Page?!!"



To Your Success,
Arun Chandran


P.S. When you're promoting some of the products mentioned in my PLR articles, the commission from just one sale will cover the cost of this product.

P.P.S. Go ahead and look around, because you won't find so much well-written content at such an affordable price. Build authority, create reader loyalty and make affiliate commissions without the struggle. Order right now – and you too can grab a slice of this SUPER PROFITABLE niche!
Q: Any OTOs (one time offers), upsells, downsells, etc. ???
A: Just 2. The upgrade packages contain lead magnets and infographics.
Q: Is there a money back guarantee?
A: No... Not for this product or the upsells. My PLR is so good it doesn't need a guarantee. Wait, what? Exactly!

Q: Is your content better than what I would get from hiring a freelance writer?
A: I think it is. You could hire a freelancer and pay them anywhere from $20 to $50 to write just 1 article for you.
You'd probably end up paying north of $500 for 25 articles… and guess what? Mine will most probably be better.
Q: What are the rights for this package?
A: The rights are listed above. I'm not Judge Dredd to enforce these rights but I know you'll abide by them 'cos you're cool that way.
Q: How can I get support?
A: You can email me directly at Arun @ FlamingHotPLR.com or click here to contact me on my website.
Q: Are the images used copyright free?
A: Yes. All images are sourced from the public domain. So, no worries.