ATTENTION: If you hate writing and hate outsourcing your content even more, you need to read this!
"Grab BRAND NEW Private Label Rights To This Top ClickBank Product Review!"
Currently #1 Ranked Product In ClickBank
Hot In-Demand Niche!
Persuasive Content That Sells!
Above 1,000 Words!
Saves You Time & Effort!
Review in Text and Word Format
Affiliate Sign Up Link Provided
Hello there!
If you're reading this, you're probably from my list and you know that my products are ALWAYS GOOD! If you're not from my list, well... now you know.
So, I'll spare us all the sales hype and get to the point.
I've written a product review for the current #1 product on ClickBank - 'Java Burn'.
This is a very popular product. If you're in the weight loss and wellness niche, this content is perfect for promoting a high-converting product.

The writing is FANTASTIC and... oh wait... I'm not supposed to hype it up.
The review is BRAND NEW and 100% unique at the time of release. The review is above 1,000 words!

You can use the content in your blogs, sites, emails, reports, eBooks, convert it to videos... and so much more.
If you use this review and just get one sale, you'd be in profit and have gotten your money's worth... and believe you, me - my reviews work. Period.
[YES] Can be edited and modified in any way
[YES] Can be branded and sold as a report with personal use rights only (PDF)
[YES] Can put your name as the author
[YES] Can be used as eCourse and webinar material
[YES] May use the content on your site/blog.
[YES] Can be used on article marketing sites
[YES] Can be translated to other languages
[YES] Can use the content to create and post videos on video sharing sites/blogs, etc.
[NO] Cannot claim copyright to the content since it is PLR
[NO] Cannot resell the pack in its entirety
[NO] You may NOT sell or giveaway private label rights (non-transferable PLR).
[NO] Can be added to membership sites with resell and master resell rights
[NO] Cannot use my name as author
Creating content on your own can be so draining and time-consuming that the zombies on The Walking Dead will have more energy and a better social life than you.
What? Some bloke is charging you $15 for a 500 word article. Tell him to take a hike with the zombies. Flaming Hot PLR can rival most freelancers who charge more than they're worth. Those oxygen thieves!
Make You Look Like an Authority!
You will gladly put your name to my PLR content. Don't believe me? Read the reviews below. Go ahead... I can wait.
Oh come on! Really? Yup! My PLR is that good!
To Your Success,
Arun Chandran

P.S. Why are you reading this P.S? You should have already bought the product by now.
Still Don't Believe Me? Check Out the Testimonials Below!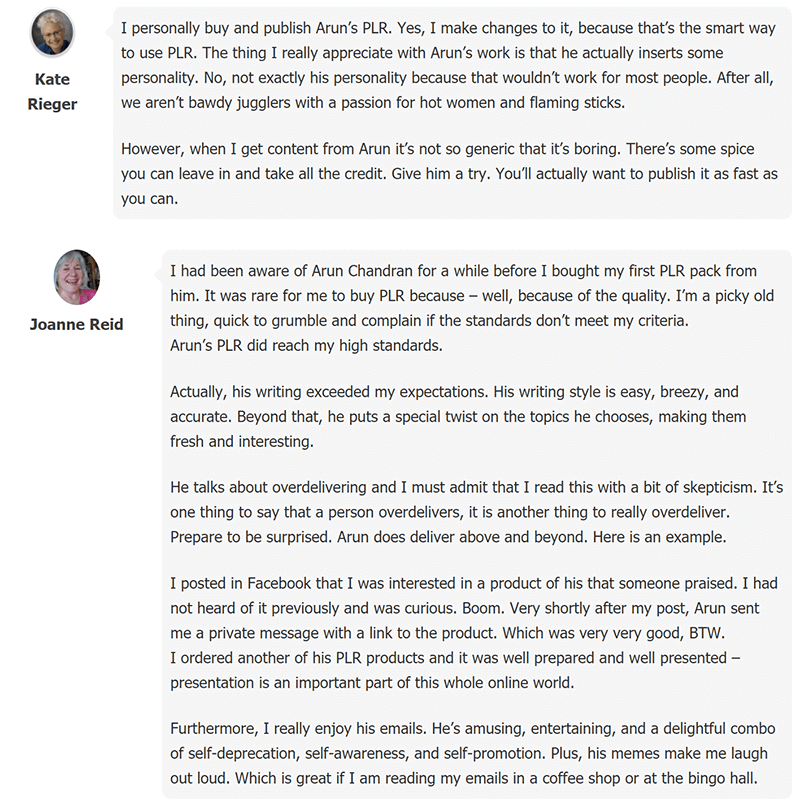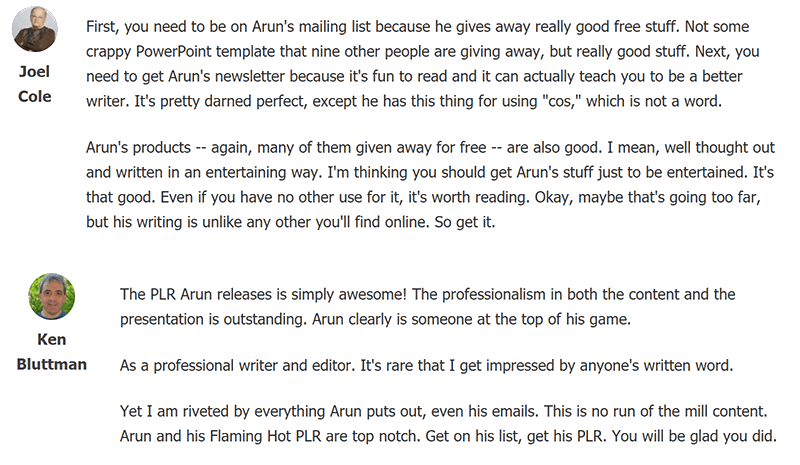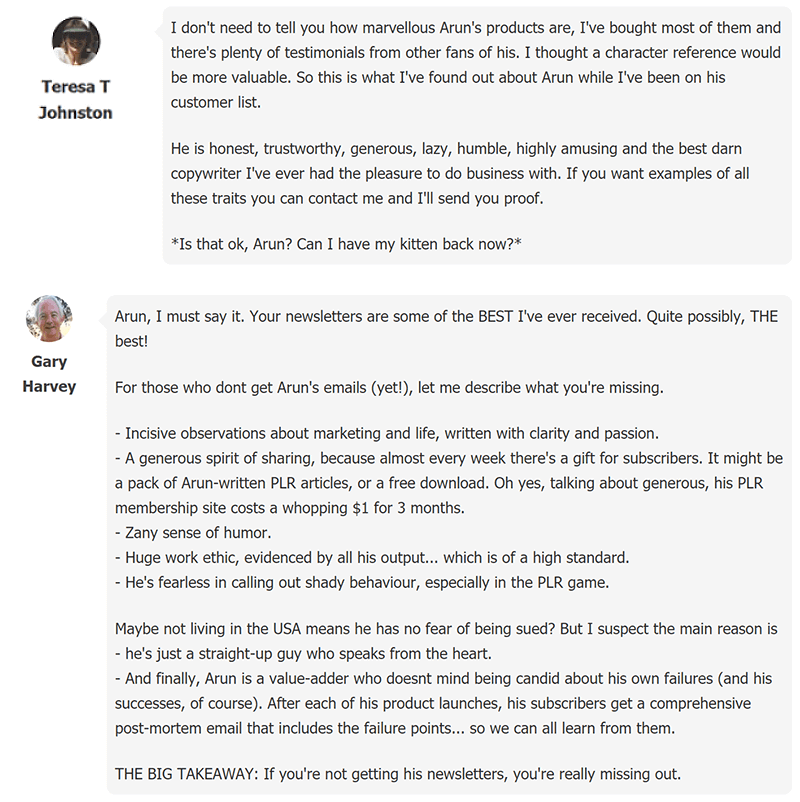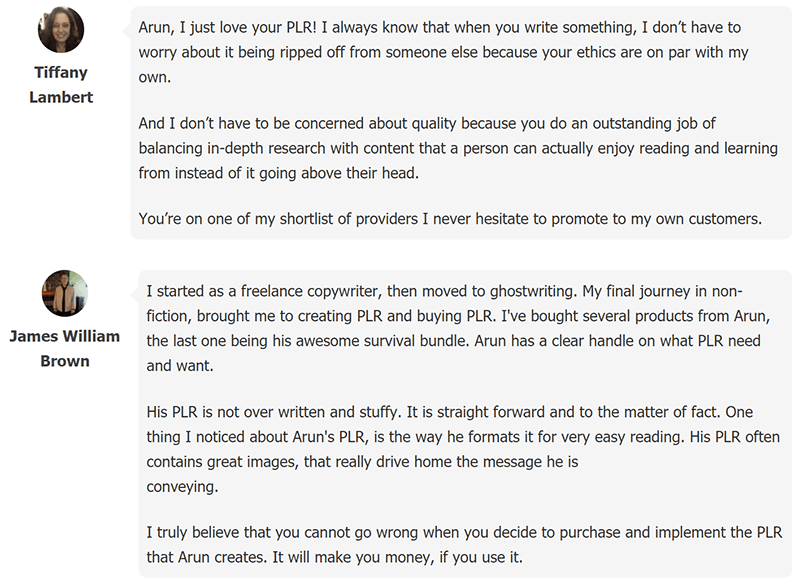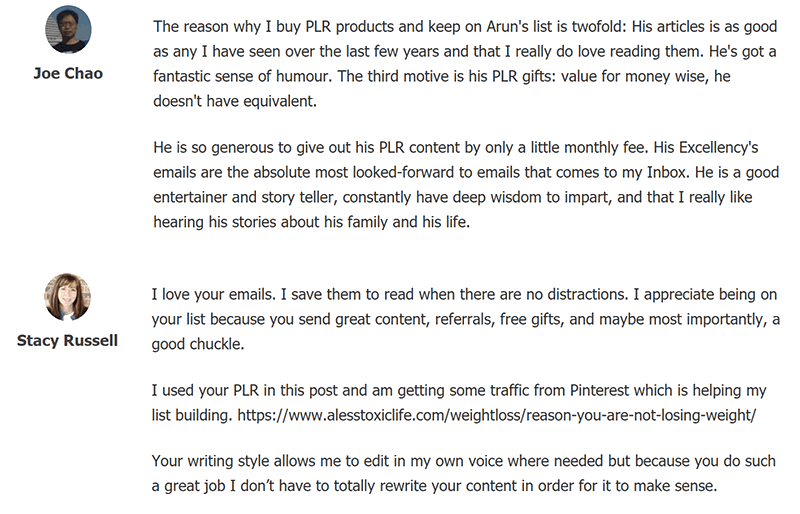 Q: Any OTOs (one time offers), upsells, downsells, etc. ???
A: Nope.
Q: Is there a money back guarantee?
A: No. My PLR is so good it doesn't need a guarantee. Wait, what? Yup!

Q: Are your articles better than what I would get from hiring a freelance writer?
A: I think they are. You could hire a freelancer and pay them anywhere from $7 to $15 to write just 1 article for you. You'd probably end up paying north of $100 for 10 articles... and guess what? Mine will most probably be better.
Q: What are the rights for this package?
A: The rights are listed above. I'm not Judge Dredd to enforce these rights but I know you'll abide by them 'cause you're cool that way
Q: How can I get support?
A: You can email me directly at Arun@FlamingHotPLR.com or click here to contact the support desk.